Shtandart: The Baltic Sea Battleship of Peter the Great
---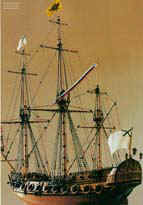 A 30-metre replica of the Shtandart, a Russian frigate, is nearing completion in St. Petersburg, and is expecting to be sailing by the beginning of the summer 2000. The original was designed by Peter the Great himself and completed at the Olonet shipyard on the Svir river in August 1703 by the Dutch master Vibe Gerense. The ship was named Shtandart after a new royal standard which shows all four seas Russia now had access to. It was in service during the War of the North and for 16 years it was the flagship of the Russian navy. After being retired, it remained in the Kronverk Canal behind the Peter and Paul fortress in S. Petersburg. By 1728 it had deteriorated so much that further preservation was impossible. Orders were given for a replica to be built, but they were never carried out.

Only in November 1994, 275 years after it sailed for the last time, the actual reconstruction of the Shtandart finally could take a start thanks to the donations of several companies and institutions. Six years of hard work in all seasons followed, even in frosts of -25 C. The team, rapidly becoming professional, used the same materials and methods as the orginal flagship. For planking they used timber from a forest planted by Tsar Peter to supply his navy. To fasten the planking, 8000 massive 8-inch nails were made by hand.

The replica Shtandart was named on 30 May 1998 by the ship's two patrons, HRH the Duke of York, and the Governor of St. Petersburg. On September 4 1999, Shtandart was launched. An enthusiastic crowd of 40.000 people came to see the ceremony as Shtandart was picked up by a giant crane and lowered into the Neva.



The Akzo Nobel Representative Office in Moscow is proud to say that it contributed to the preservation of such a valuable aspect of the rich history that Russia and The Netherlands share with eachother. Akzo Nobel provided the project free of charge with all the paint necessary. Is it a coincidence that the completion of the Shtandart almost coincided with the 300th anniversary of Peter the Greatís embassy to The Netherlands and Great Britain, the places where he learned the art of shipbuilding?
---